Sale!
2020 Peter Lynn Swell V4
£689.00 – £1,309.00
Free UK shipping on orders over £50!
Expert Advice
No Hassle Refunds
Secure Payments
Price Match
The Peter Lynn Swell offers light bar pressure and agile steering along with plenty of depower and drift so you can focus on your wave riding.
The 2020 Peter Lynn Swell V4 is a high-performance waveride kite with incredible capacities. The light bar pressure allows you to feel free and focus on riding waves. This kite flies very quickly through the wind window and drifts like no other. The Swell not only performs well with freeriding and foiling but also beginners love the fact that the Swell just flips over and relaunches really easy. Make the ocean your playground with the new Swell. A perfect blend of ease of use and stability make the Swell a great partner to learn kitesurfing and to progress in any way.
Features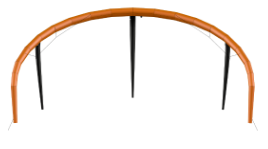 3-STRUT HYBRID SLE
The Swell's unique shape gives it an amazing range, fast and easy relaunch and awesome drifting ability, even in the worst onshore conditions. The balanced Hybrid/SLE shape of the Swell is designed to be stable and offers the precise and responsive handling that both wave chargers and free riders demand. Its lightweight 3-Strut frame offers maximum stability and slack line drift when you want to focus on surfing the wave. The shape allows for a super speedy water relaunch which is a must when riding more serious sized surf or when you're dialling in that new trick.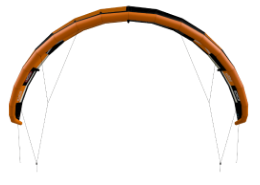 3 POINT BRIDLE
The bridle system gives the kite a huge and progressive depower range. This makes even the worst conditions a lot easier to handle. The low friction rings have no moving parts and are very small, so you can be confident that you won't get any jams or snags with you lines.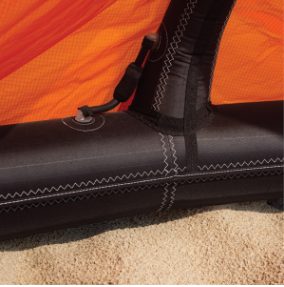 DOUBLE STITCHED MULTI SEGMENT LEADING EDGE
Multiple reinforcements improve the durability. The leading edge and struts are built with the most durable Dacron. The leading edge has been reinforced along the entire seam to protect it from getting damaged when crashing or getting a pounding in the waves. This makes it hands down one of the toughest kites on the market. Kevlar reinforcements on the strut ends protect against friction wear.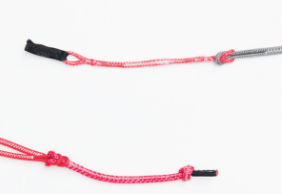 KOOK PROOF
The front and back line connections have been colour coded to allow you to easily and quickly set up the kite. You will immediately notice if they haven't correctly set up front and back line connections. The bridle loops are colour coded and 'knot to loop' to help kiters get their kite in the air safely.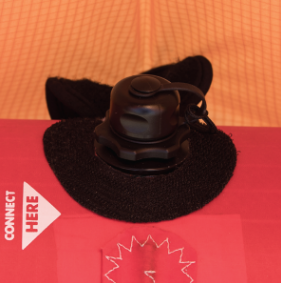 FIT ALL VALVE
All our kites are equipped with a 'fit-all-valve' for easy inflation. The bayonet fitting fits all pumps and the large valve opening makes inflation a breeze. You won't have to spend hours and hours pumping your kites anymore. You will be able to ride in the perfect wind in no time.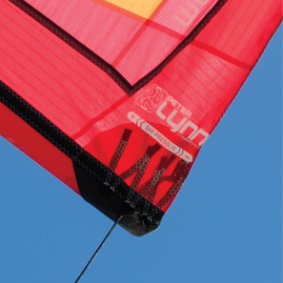 MULTIPLE TIP SETTINGS
The Swell has multiple tip settings on the wingtips giving the rider full control. It can be set up with super light bar pressure or hard direct feedback for those days when you are in the barrel and need to feel every nuance of the kite.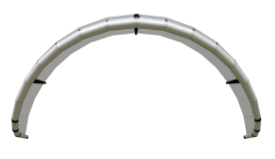 TRAILING EDGE REINFORCEMENTS
The trailing edge is reinforced with a double layer of teijin Technoforce T9600 cloth combined with Bisonyl reinforcements; this results in an extremely durable yet lightweight solution. This is perfect if you're looking for a tough kite. The reinforcements will make sure that you can use the kite on land as much as you need to without worries.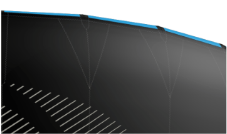 !NEW! TRIFLOW
If you look closely at the canopy attached to the leading edge, you will see multiple triangular shaped panels. These multiple triangular shaped panels called TriFlow, create a smooth and clean transition between leading edge and canopy. By using the TriFlow, the canopy attached to the Leading edge is now able to curve both sideways over the leading edge and from the leading edge to the trailing edge.
This creates extremely smooth surface and airflow over the canopy, resulting in more stability and a better overall performance. This makes the Swell more stable when you depower the kite and totally want to focus on your ride, rather than your kite. Feel the Difference.
Characteristics
PRECISE AND RESPONSIVE
Quick through the turns, it can be positioned exactly where you need it when shredding waves or loading up for a jump. Even completely depowered the kite maintains its responsiveness, allowing you to quickly power up when you need to get past that close out section or to get over that big set to catch your next wave. The Swell's responsiveness and smooth power make it easy to pop some impressive jumps.
DESIGNED FOR MAXIMUM STABILITY AND SLACK LINE DRIFT, EVEN WHEN DEPOWERED
The kite's perfect weight distribution and balance give the 2020 Peter Lynn Swell V4 the stability it needs to drift when the lines go slack on the wave or during a trick. This gives you time to focus on your riding instead of worrying about the kite. Its quick acceleration and deceleration give you power when you call for it and the kite's highly stable drift capabilities let you focus on enjoying and improving your riding.
EXCEPTIONAL WIND RANGE
Thanks to great low end power, without sacrificing any of the top end, you will be able to get going earlier and stay out longer. Let the Swell surprise you with its large useable wind range, allowing you to work it during lulls and to always enjoy waves when the wind picks up.
LIGHT AND RESPONSIVE BAR PRESSURE
The bar feels truly connected to the kite making it the perfect link between yourself, kite, wind and waves. It's easy on the arms and joints because you work with it rather than against it, while still remaining very responsive and intuitive, letting you know where it is at all times. Even after hours on the water your arms and hands will not feel heavy and will be ready for more.
| | |
| --- | --- |
| Size | 5m, 6m, 7m, 8m, 9m, 11m, 13m, 15m |
| Colour | Blue, Orange |
| Discipline | Surf, Wave |
Brand
Peter Lynn Kiteboarding
Peter Lynn Kiteboarding With "Never stop Playing" as our new mantra, we have grown, evolved and entered the next chapter of our journey to become the best kite manufacturer out there. Our core and roots remain the same, with a deep love for snow, buggy, land- and kiteboarding: PLKB's tremendous experience creating kites that exceed expectation puts them on a whole other level. Their dedication isn't to marketing extravaganza, but to produce the very best kites out there for everyone to enjoy and have fun with. They've taken on the challenge of beating big brands, defying all odds